Review of 2015

Uneventful, drier and cooler than average for the first ten months, then an exceptionally wet and mild final two months turned all that on its head.

Upto the end of October, 2015 had been a relatively quiet year with no notable or significant weather events and was certainly nothing out of the ordinary. Indeed those first ten months saw the temperature running colder than average, with only January and October, marginally, warmer than average. Also during these ten months, rainfall outside of the Lake District was 90-99 % of normal and the year was looking like being a fairly average one.

But then the last two months of 2015 turned all that on its head and at Newton Rigg 2015 finished as the 3rd wettest year in a record stretching back to 1900. Whilst November was very wet and mild, December took that theme of wet and mild to a new extreme and single handedly re-wrote the record books - and in some respects, the rule book as well.

In years to come, ask someone of their recollections of 2015 and unless it is of a birth, death or marriage, then December will be what they utter and one name in particular ... DESMOND.

Using the Met' Office site at Newton Rigg (unless stated otherwise) as the local standard, after an average January, the next eight months were all colder than average, with March, June and September showing departures of over 1.0°c below normal, with the seasons subsequently also being colder than average.

The winter had brief wintry forays, but no sustained cold spells and the spring was also wetter than average ending with May being a particularly poor month. Likewise the summer was generally on the poor side and despite creating a new highest temperature record here at Maulds Meaburn (nationally a new highest July temperature record), there were no sustained warm spells and after the 1st July it became quite unsettled. During 2015 only 21 days attained 20c (just 2 over 25°c) here at Maulds Meaburn, the lowest amount in my 7 years of records and only 16 of those fell during the summer. There were none in May, yet bizarrely the last of those 21 fell as late as the 6th October.

Following a second successive dry September and then first 20 days of October, the autumn had been dry and cool, but a subtle change to unsettled and wet weather came from the 20th. Apart from the cooler than average theme through to the end of October, the year had never really 'got going' in any shape or form with no one weather pattern ever becoming truly established, let alone dominant - until November.

From this year, the Met' Office now gives names to notable storms and in November with the wet, mild and wild conditions taking control, we had the first (3 in total) named storms of the season - but for all the wrong reasons December became the weather month of the year.

Use whatever term you like about December, 'Exceptional', 'Unprecedented' or 'A once in a 2,3,4 (more?) hundred year event', it simply went beyond the normal understanding of what is grim.

December was the wettest of any month on record, surpassing the previous 'unprecedented' total from November 2009 and here at Maulds Meaburn had done so by the 17th of the month. December also broke the record for the both the wettest 24 hr (341.4 mm at Honister) and 48hr periods (405.0 mm at Thirlmere) during the 4-5th when 'Desmond' struck with devastating consequences. Here at Maulds Meaburn, 8 days recorded at least an inch of rain for a final total of 571.9 mm, which has previously stated, destroyed the November 2009 record of 317.2 mm.

December was also the warmest on record, the mean temperature at Newton Rigg being 7.6°c, some 4.2°c above the 1981-2010 average and which beat the previous warmest December record that had stood since 1934 by 0.8°c. And a new Cumbrian record for the highest December temperature was created on the 18th, 16.1°c (61°f) being more typical of May and what is even more bizarre is that this was recorded at Alston ... yes you read that right, Alston.

TEMPERATURE

Locally only Warcop was colder than average during 2015, albeit marginally at -0.1°c below its 1981-2010 average of 8.4°c, with other local sites going the other way. Shap and Newton Rigg were 0.1°c above average and once again Keswick was just that little bit more above average, 9.6°c being +0.3°c above.

With a mean temperature of 8.69°c (mean minimum of 4.8°c and mean maximum of 12.6°c) at Newton Rigg, 2015 becomes the 23rd warmest in a complete series back to 1957. In a far more fragmented series back to 1914 (14 years of incomplete data), it is the 25th warmest.

But just the four months had been warmer than average during the year, two only marginally so, further demonstrating the exceptional warmth of those two final months.

At the Met' office site at Shap 63 air frosts were recorded during 2015, its average being 74.5, which had an annual mean temperature of 7.9°c.

Here at Maulds Meaburn a mean temperature of 8.75 °c (mean minimum of 4.96°c and maximum of 12.54°c) was some 0.12°c above the average for my short period of records for 2009-2014.

The highest and lowest temperatures recorded at a standard site during 2015 were: a maximum of 31.6°c (1st July at Brampton) and a minimum of -9.5°c (3rd February at Alston).

Here at Maulds Meaburn it was: 29.8°c (85.6°f) 1st July and -6.8°c (19.8°f) on the 3rd February.

A selection of monthly mean temperatures is shown below:

Local Temperatures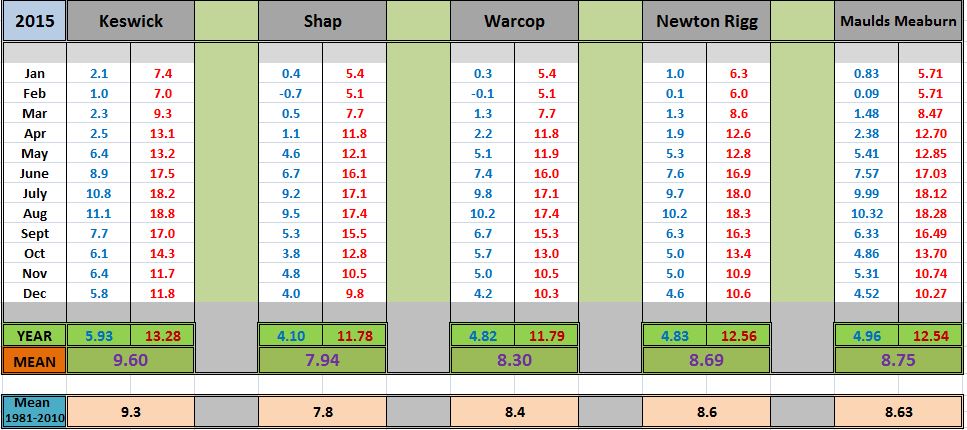 RAINFALL
How did 2015 end up as locally the 3rd wettest on record, especially when rainfall during the first 10 months was generally below average at 90-99 % of normal outside of the Lake District (LD), 110% within the national park? However, come the years end those percentages were in the region of 130% outside the LD and 140-150% within the national park.
At Newton Rigg the rainfall record commenced in 1900 (3yrs data is incomplete) and average rainfall for 1900-2014 was 924.0 mm. The final total of 1224.7 mm (129.3%) makes 2015 the 3rd wettest year in the Newton Rigg record, only beaten by 1903 (1390.9 mm) and 1954 (1260.1 mm) and this is despite there being an equal split of drier and wetter than average months during the year. The six that were drier being: Feb', March, April, June, Sept and Oct'.
Seasonal rainfall was always just marginally above average in each season and here at Maulds Meaburn there were no droughts or dry spell. There was one virtually continuous 'rain spell' (rain recorded on every day for at least 15 days), the 3rd November until the 21st and then after a single day's break, it re-commenced on the 23rd and it rained on every day into the New Year (Jan' 13th).
A selection of local rainfall totals from various standard sites is shown below:
Local Rainfall Totals

**'Data kindly provided by the Hydrometry and Telemetry team of the Environment Agency (Penrith)'.
In an even longer series back to 1857, rainfall of 1251.1 mm at Appleby also makes 2015 the 3rd wettest year in that time, only beaten by 1928 (1318.8 mm) and 1903 (1291.9 mm), but notably more than the wet year of 1872.
Since 1857 average annual rainfall in Appleby is 889.5 mm (1981-2010 average of 892.5 mm) and the 2015 total represents 140.7 % of average, this being one of the larger, if not the largest departure from the norm'.
Rainfall at Maulds Meaburn was 1663.8 mm (65.5 inch) with rain recorded on 225 days (8 more than average) of which 176 were 'wet days' (days of 1.0 mm=>). This easily makes 2015 the wettest of my eight complete years of records.
Twelve days recorded an inch or more of rain, eight of them falling in December and the year's wettest day was one not easily forgotten, the 5th December with 122.4 mm, which is 7.36% of the annual total and which shattered the previous record of 68.0 mm.
I have now had a rain gauge in place in Crosby Ravensworth (CR) for just over a year and 2015 is the first complete year of records. This gauge is only 0.7 miles from my own gauge in Maulds Meaburn (MM), but as expected the gauge at CR has recorded more. The monthly differences between the two have generally been small and indeed June and September saw the MM gauge record slightly more, but come the winter the margin in favour of CR shot up.
Those two final months saw the CR gauge well in excess of MM, culminating in over 5 inches more in December. The annual total of 1900.8 mm (74.83") is a staggering amount. Unfortunately there are only very limited rainfall records for CR with which to compare this 2015 total, but locally (Appleby - records commenced 1856) 1872 is now the 4th wettest on record and there was a gauge in CR in 1872 which recorded 1716.0 mm. Those totals makes CR wetter by 7.28" this year compared to 1872 and must also rank 2015 at least as one of the top 3 wettest years in 160 years at CR.
Using the definition of an average year of rainfall being within the range of 90-110% average, a 'Wet Year' being 110-125% and a 'Very Wet Year' being over 125%, we find that 2015 is at the upper end of being a 'Very Wet Year'.
MONTHLY SUMMARY
January saw the vast amount of this year's snow, 11 of the 15 days on which there was 'lying snow' fell this month, all from the 14th onwards. However, January was a contradictory month and one of contrasts, for at times we had spells of very mild and wet weather, followed by cold and wintry conditions. Overall though, in terms of temperature, it all ended very average, but rainfall was certainly plentiful during the first half of the month and above average for January. There were two separate wintry spells, 16th-23rd and 28th-31st and with snow lying on the ground for those 11 days, January will be remembered more for the first wintry blast since March 2013.
One curiosity about January was that we had more of everything than in the whole of 2014: colder minimum and maximum temperatures, more snow, more fog* and a wetter, 'wettest' day. But the overall effect was to maintain January's position as both the coldest and wettest month of the year, although December's rainfall would change that.
Overall February was a reasonable month that was both colder and drier than average and also the first month since August 2013 to be colder than average. A very dry, cold and quiet first 12 days with a north-westerly airflow was replaced by milder and unsettled conditions and a more typical south-westerly flow that brought rain on most days. There was a brief wintry interlude during the 21st-24th, but which wasn't disruptive in any way.
February brought a fairly average winter to a close, especially for temperature, whilst rainfall fluctuated locally from just above average up to 186% of normal at Seathwaite.
March was both colder and wetter than average and after the long run of warmer than average months, along with February we had had consecutive colder than average months. The month was generally mixed with an unsettled start and end (in like a lion and out like a lion!), had a few wintry interludes and a dry, settled period from 14th - 22nd.
The number of frosts (11) was just above average and by the end of the month we had already had more frosts in 2015 than in the whole of 2014. Here at Maulds Meaburn the colder than average month was mainly due to the slightly suppressed mean maximum temperature.
April was a fine and sunny month that saw high pressure in the ascendency and hence was drier than average although the temperature was only on a par for the month, but with some wide fluctuations. A few days were notably warm, but this was more than cancelled out by the mean minimum temperature which showed a large, negative departure from the norm'. However, April will be best remembered for just how sunny it was with the Met' Office reporting it to have been the sunniest on record.
Subsequently ground frosts were common (19) and well above average, but yet we had the first day of the year to attain 20°. After a dry spell from the 13th-23rd the month ended cold and unsettled with a few wintry showers. MSLP of 1020.5 Mb was +6.8 Mb above the average for April with high pressure dominant during the 4-10th and again for the 16-24th and a little like March, was unsettled at both the beginning and end of the month.
Winter duvet still on the bed at the end of the month, central heating not yet permanently switched off? May was certainly on the cool side - oh, and it was also wet as well. Yet frosts were confined to just the first two nights of the month and the mean minimum temperature wasn't that much below average, but day-time temperatures really struggled and it often felt fresh as brisk winds were also common throughout the month. Only four days attained the average of 15°c and consequently the mean maximum temperature was 2.3°c below average and a meagre 0.15°c higher than that of April - yes it was chilly and the coldest May since 1996.
No weather type dominated during the month or even becoming established for any length of time. Weather patterns fluctuated between unsettled westerly types interspersed with high pressure ridging in for a few brief days, the driest period coming during the 20-26th. The highest maximum temperature recorded was only 17.4°c.
Autumn, sorry, summer, begins with the start of June and the month did very little to inspire and indeed was frequently cool and cloudy and most certainly June 2015 was not a summer month, although summer did finally put in an appearance at the very end. Temperatures struggled by both day and night with only the 10-12th and then dramatically on the 30th, offering any warmth. Ground frosts were even recorded on four days, but after a wet day on the 1st, rain was infrequent and inconsequential when it did fall, with the ground dry and hard at the month's end.
MSLP of 1018.7 Mb was +3.3 Mb above the average for June, partly explaining the dryness of the month, but high pressure wasn't a dominant feature and the days often experienced variable amounts of cloud and hence it wasn't a particularly sunny month either.
July may have started with the warmest day yet recorded at this site (Newton Rigg 29.2°c and Shap 28.8°c) and a national record for the warmest July temperature, but the majority was very disappointing and nothing like summer. After that warm start, the month then reverted to a westerly Atlantic weather type which gave cool, dull and rather changeable weather. There was then only a few dry and warm days with the last ten days of the month particularly cool and dull. Through the month, whilst never heavy, rain or showers were frequent.
Temperatures were heavily suppressed, especially by day, with the mean maximum temperature significantly down on average by 1.5°c with only six days attaining 20°c, the last 20°c coming on the 16th after which they typically ranged from 15-17°c, but 13.1°c on the 28th was cold and a new lowest maximum temperature in July at this site.
"The English winter, ending in July, to recommence in August." - Lord Byron
August was actually a very average month, both in terms of temperature and rainfall and it was also warmer than July. The majority of sites in Cumbria recorded marginal departures from the norm', be that positive or negative for both elements - but, despite all this and being 'average', overall, due to the month having been of the 'unsettled type' it would be classed has having been on the poor side and like the summer, one that never really happened.
Temperatures were often below average, especially by day, with 21 days failing to attain the mean maximum temperature of 18.5°c, (only 5 days managed 20°c) and it was certainly cool through the middle part of the month, before a few brief warmer days (19th-23rd). Day-time temperatures then fell away below average for the last week of the month although under predominantly cloudy skies night-time minima remained well above.
September may have been cooler than average and the coldest since 2001 (Newton Rigg) and back to 1994 at some locations, but despite this it would probably have been considered a decent month as it was both notably drier and sunnier than average. Night-time minima were drastically below average by some 2.0°c, whilst day-time maximums were only marginally below average. The cool nights were a constant theme throughout the month, with two ground frosts recorded and whilst we also had a number of cool days, there was the occasional warmer day, especially during the excellent spell at the month's end.
Any rainfall was also kind enough to fall overnight or in the form of showers and the month was dry at both its start and end and contained some really fine sunny days. However, the month started cold with a north-westerly flow before improving significantly for the 6-11th and which like the 25-30th were fine, sunny, warm and quite summer-like.
In a generally quiet month, October still managed a little bit of everything and had some rather curious contrasts: the earliest autumn day in my records that failed to attain 10°c, followed three days later by the latest autumn day in my records to attain 20°! We had some fabulous sunny days, a lengthy dry spell either side of mid-month, but becoming wet thereafter and unsettled at the end of the month and which, unbeknown at the time, was the beginning of the terrible end to 2015.
Apart from the 5-7th the month was dry and settled for the 1st-20th with high pressure dominant. The month then became unsettled from the 21st with rain becoming increasingly frequent and heavier. During the beginning of the spells of high pressure, 1st-4th and 8th-20th we enjoyed some decent sunny days, but becoming increasingly cloudy towards the end of those periods. There were some cold nights, although we only had the one air frost, with the mean minimum for the month down on average, but this was more than offset by the mean maximum, resulting in the mean temperature for the month being slightly above average.
November was a terrible month, very unsettled, very wet, often windy, occasionally stormy and exceptionally mild (the 3rd warmest on record) and dull throughout the month apart from one very brief wintry spell 20th-23rd. Even its mildness was of no consolation as the sun went virtually unseen, rain fell frequently and heavily, gales were recorded on two days with gusts of wind exceeding 50 mph recorded on five days.
MSLP of 1010.4 Mb was -3.3 Mb below the local average for November with low pressure very much to the fore as a rapid succession of frontal systems arrived off the Atlantic. Some of those systems were significant enough to be named by the Met' Office and the month saw some disruption with roads flooded and trees brought down.
And so to December!
December went beyond grim, a month that put its foot on your throat, pressed down hard, then a little harder and never had the decency to release the pressure even slightly, let alone take its foot from off your throat. Its impacts went beyond a 'weather event' and became a 'human story', one that simply will not be forgotten. A simply tiring and exhausting month.
The month was record breaking for all the wrong reasons, many mentioned above, but which also included: a mean wind speed of 12.9 mph for the month as a whole here at Maulds Meaburn and the daily mean wind speed of 32.0 mph for the 24hrs of the 5th was, along with the rainfall, crazily high.
During the 4-6th 'Desmond' arrived. A slow moving depression, with a centre of 940 Mb, that didn't actually get that close to the UK, the centre tracking east of Iceland. However, it had a frontal system trailing from it that dissected the northern portion of England and trailed away into the mid Atlantic. But most crucially it had a strong feed of warm and moist tropical air and partly due to the dominance of high pressure (HP) over Europe, those fronts stalled once over the UK - the outcome being the prodigious rainfall totals across Cumbria.
The rain arrived during the evening of the 4th and from 2030 hrs that night to 0215 hrs on the 6th there was not a single 5 minute period that did not record at least 0.2 mm of rain, virtually 30 hrs of non-stop heavy rain and with a little bit more either side of those 30 hrs.
The rainfall totals were (these are the 24hr periods of 09-0900 hrs): Maulds Meaburn 4th = 63.8 mm 5th = 122.4 mm quite easily the wettest day in my records and the 4th is also the third wettest day. Along with the 30.8 mm on the 3rd this is also the first time that this site has recorded in excess of 1" of rain on three consecutive days.
The 48 hr rainfall for the 4-6th at Shap (Met' Office) was 262.6 mm and Crosby Ravensworth School was not that far behind at 229.6 mm (which again for just the 0.7 miles difference to Maulds Meaburn is some margin).
And of course the rain wasn't the only story of the day as we also encountered gale force winds. The year's highest gust of wind, 69 Mph actually introduced Desmond to us in the early evening on the 4th and then it wasn't until the morning of the 6th when the winds started to abate.
So, it left the village with several house flooded, effectively cut-off during the Saturday and one footbridge destroyed during an unforgettable 36 hours. And there was no let-up as the rest of the month remained wet with an inch of rain recorded on 8 days in total, Christmas Day and Boxing Day being two of those.
At Appleby rainfall of 382.1 mm is the first time in 159yrs of records that any month has exceeded 300mm.
'Desmond' - frontal system 4-6th that stalled over northern UK with devastating consequences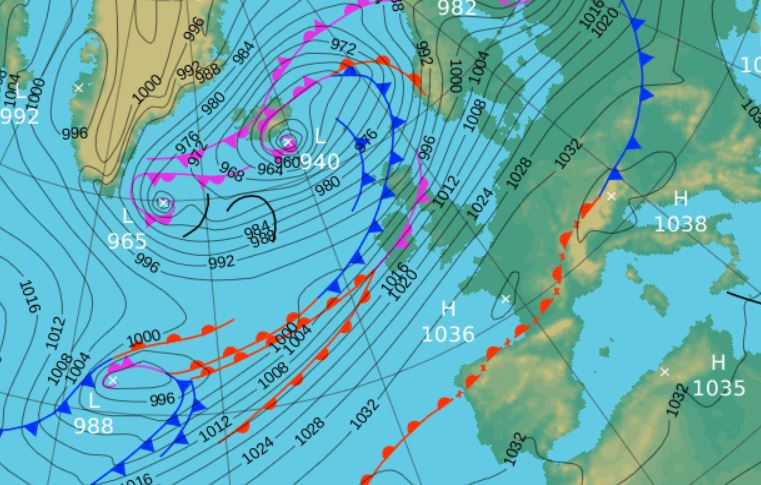 Scenes of the flooding in the village - these photo's were taken during the morning and hence before the floods were at their highest - Photo's courtesy of Helen Marsh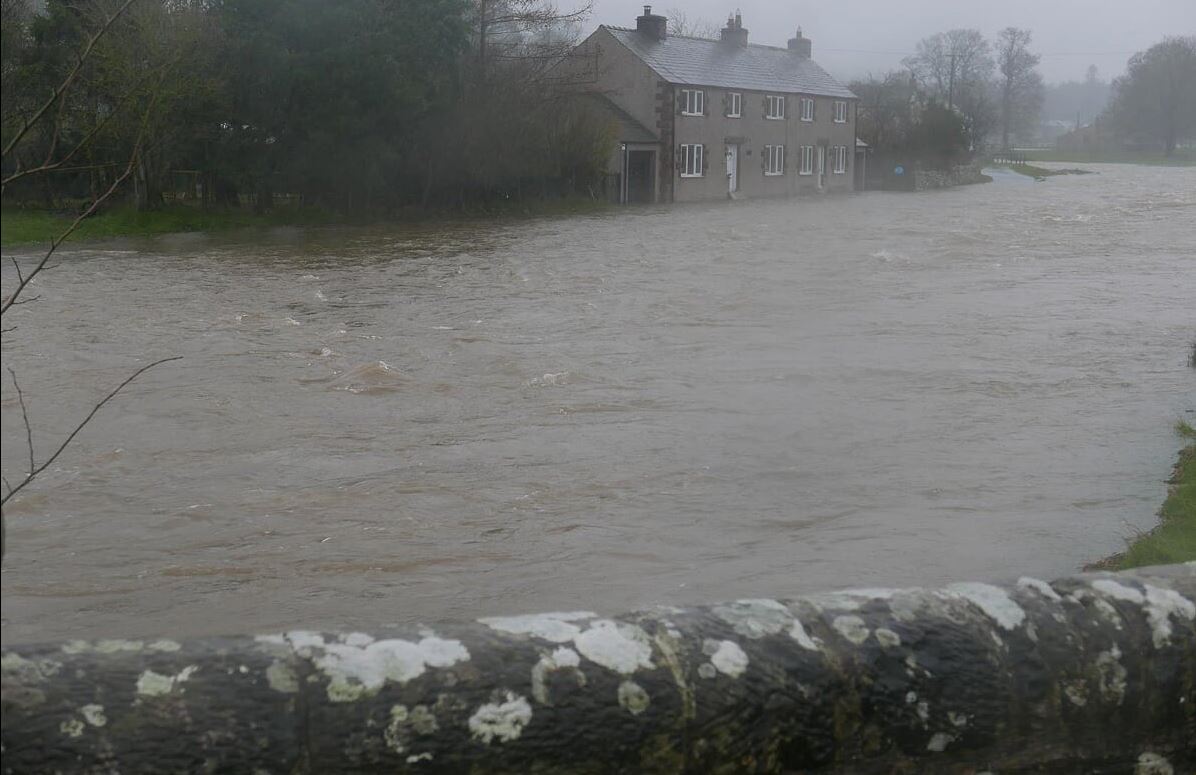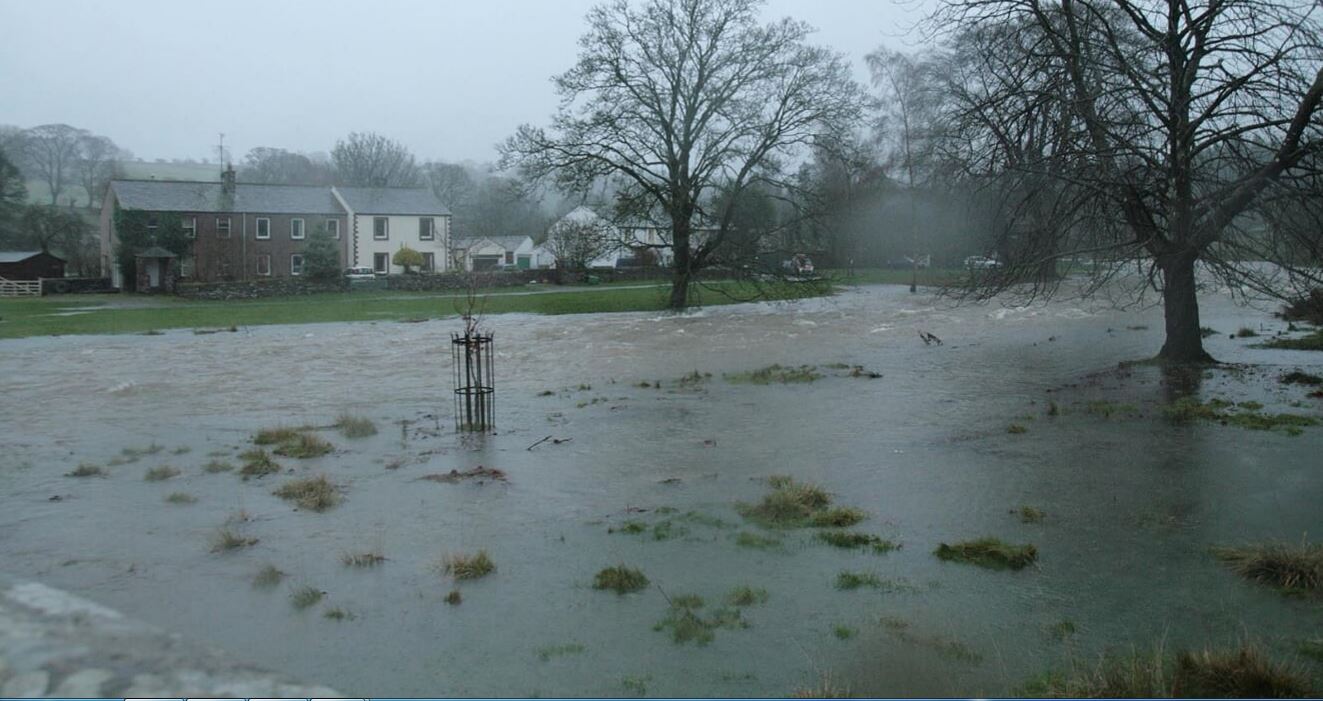 OTHER - Maulds Meaburn data:
• A Mean Minimum of 4.96°c - Mean Maximum of 12.54°c
• During 2015 snow lay on the ground* on 15 days and was seen to fall on 32 (inc' sleet) with hail falling on 13 days.
• Fog* was recorded on 6 days with thunder heard on 4 days.
• Mean cloud* cover was 82.3% with 141 days having a 100% cover* and 5 days being totally clear.
• Mean air pressure* was 1014.3 Mb (+1.0 MB above the local average) - Lowest pressure was 971.5 Mb (15th Jan') and the highest was 1040.9 Mb (8th Feb').
• Mean wind speed* was 8.1 Mph - the highest gust = 69 Mph (4th Dec') - the windiest day with a mean speed of 32.0 Mph was 5th Dec'.
• Gales (a 10 min' mean wind speed of 39 Mph) were recorded on 5 days.
• We had 49 air frosts (11.3 below average) - 120 ground frosts - with 21 days attaining 20°c+ (2 attaining 25°c) and no Ice days when the temperature remained below freezing all day.
• The 30 cm soil temperature had a mean of 10.0°c with a low of 2.2°c (4-6th Feb') and a high of 17.3°c (24-25th Aug').
• The 100 cm soil temperature had a mean of 9.7°c with a low of 5.0°c (6-13th Feb') and a high of 14.2°c (28-29th Aug').
• * Refers to 0900 GMT – the hour of observations.
• Met' office data is still provisional for August onwards.
• THANKS:- There are several people whom I would like to thank for their help, support and assistance over the past year: For the supplying of data: to Susan Sandelands and Martin Wilson of the Hydrometry and Telemetry team at the Environment Agency (superbly efficient). And then to a small team of observers who stand in for me when required, Alan, Margaret, Adrian and especially Sarah.

        ------------------------------------------------------------------------------------------------------------------------------



                                  * 2015                 TEMP'     8.75°c         --          RAIN    1663.8 mm


                                  * 2014                 TEMP'     9.58°c         --          RAIN    1343.8 mm


                                  * 2013                 TEMP'     8.49°c         --          RAIN    1232.1 mm


                                  * 2012                 TEMP'     8.26°c         --          RAIN    1415.9 mm


                                  * 2011                 TEMP'     9.17°c         --          RAIN    1305.4 mm


                                  * 2010                 TEMP'     7.42°c         --          RAIN     702.9 mm


                                  * 2009                 TEMP'     8.86°c         --          RAIN    1264.5 mm


                                  * 2008                 TEMP'                    --          RAIN    1381.3 mm




     

2015 Rainfall Register for Maulds Meaburn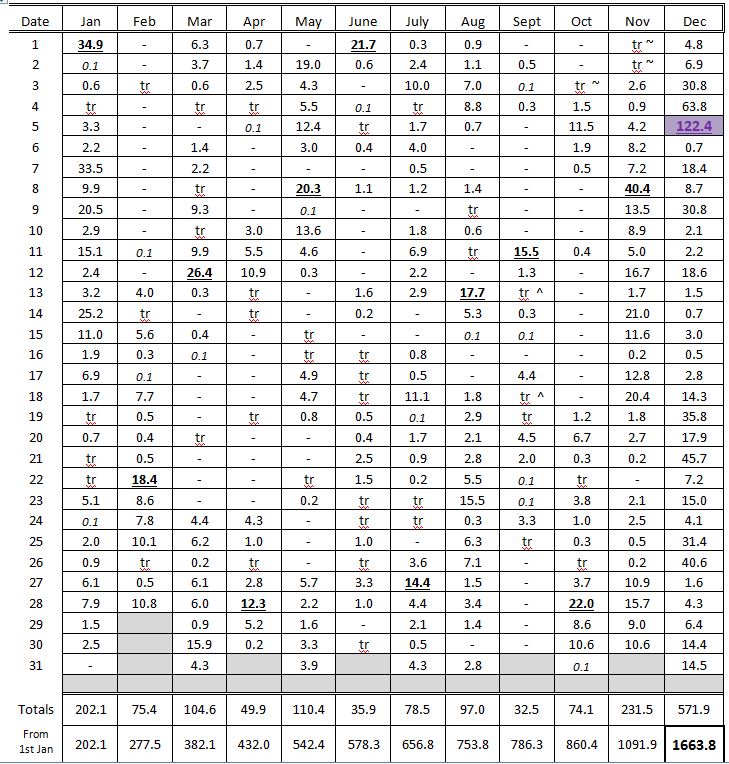 PREVIOUS MONTHS REPORTS
JANUARY 2010 FEBRUARY 2010 MARCH 2010 APRIL 2010 MAY 2010 JUNE 2010 JULY 2010 AUGUST 2010 SEPTEMBER 2010 OCTOBER 2010 NOVEMBER 2010 DECEMBER 2010
JANUARY 2011 FEBRUARY 2011 MARCH 2011 APRIL 2011 MAY 2011 JUNE 2011 JULY 2011 AUGUST 2011 SEPTEMBER 2011 OCTOBER 2011 NOVEMBER 2011 DECEMBER 2011
JANUARY 2012 FEBRUARY 2012 MARCH 2012 APRIL 2012 MAY 2012 JUNE 2012 JULY 2012 AUGUST 2012 SEPTEMBER 2012 OCTOBER 2012 NOVEMBER 2012 DECEMBER 2012 SUMMER 2012 REVIEW OF 2012
JANUARY 2013 FEBRUARY 2013 MARCH 2013 APRIL 2013 MAY 2013 JUNE 2013 JULY 2013 AUGUST 2013 SEPTEMBER 2013 OCTOBER 2013 NOVEMBER 2013 DECEMBER 2013 REVIEW OF 2013
JANUARY 2014 FEBRUARY 2014 MARCH 2014 APRIL 2014 MAY 2014 JUNE 2014 JULY 2014 AUGUST 2014 SEPTEMBER 2014 OCTOBER 2014 NOVEMBER 2014 DECEMBER 2014 WINTER 2014 REVIEW OF 2014
JANUARY 2015 FEBRUARY 2015 MARCH 2015 APRIL 2015 MAY 2015 JUNE 2015 JULY 2015 AUGUST 2015 SEPTEMBER 2015 OCTOBER 2015 NOVEMBER 2015 DECEMBER 2015
&copy Darren Rogers 2015
Want to comment on this site? email