Monthly Summary - February 2020
Water, water, everywhere, and all the boards did shrink; Water, water, everywhere, Nor any drop to drink.
The above verse may be from Coleridge's 'Rhyme of the Ancient Mariner' but by word, it wasn't half appropriate during February.
It was GRIM - easily the wettest February (++) of the 13 now recorded here and it also became the 2nd wettest of any month in my records - that beats the 317.2 mm from November 2009 and is only second to December 2015 (Storm Desmond)!
It was wet, very wet - Appleby was under water, we had our own flooding in Maulds Meaburn and surrounding villages and then with the burst water main caused by 'Storm Ciara' we had no water for a few days!
With lashings of rain that provided for both the second and third wettest days in my records, several named storms, saturated ground, virtually permanent grey skies with little sunshine and strong winds, February 2020 will be long remembered, but one that we would rather forget.
After a quietish start to the month, the conditions turned on the 8th and the rest of the month would be constantly unsettled with two further named storms 'Dennis and Jorge'. Whilst the month would also be much warmer than average, it still managed to have the occasional wintry feel, 10-13th and 23rd - 27th, during which we actually saw some snow laying on the ground, but not much.
And like January, it was slightly bizarre that the month finished with such a high mean temperature as it rarely felt that mild and which, like January, saw only one day scrape into double figures.
And wasn't it windy - the month finishing with a mean wind speed of 14.1 Mph, this being a new record for this site and easily surpassing the old record of 12.9 Mph from December 2015.
MSLP of 1002.1 Mb was -11.8 Mb below the local average for the month and overall a mean minimum of 1.94°c and a mean maximum of 7.25°c saw the temperature 0.93°c above the eleven year average for this site.
It was the coldest since 2018 and of the twelve now recorded, seven have been colder and four have been warmer - the highest maximum temperature recorded being 10.1°c (9th), the lowest minimum -1.2°c (7th).
Rainfall of 343.4 mm (Crosby Ravensworth School 428.6 mm - Castlehowe Scar 498.5 mm) was 387.6% of average for 2008-19 and made it the wettest February and the second wettest of any month in my records (thirteen years).
During the month the following was recorded: snow fell on 10 days (10-14th, 20th, 23-24th, 26-27th and 29th) with two of those days (13th and 24th) being a 'day of laying snow'. Hail fell on six days (10-11th, 16th, 22nd, 25th and 29th) and four days recorded an inch or more of rain. Gusts of wind exceeding 50 mph were recorded on nine days, with a 'gale' recorded once (9th) - the maximum gust being 60 mph (16th).
At the Met' Office site at Newton Rigg, rainfall of 251.0 mm (337.8%) was the wettest recorded in a series back to 1900 (1 year in which data is missing) and the fourth wettest of any month in the same period.
A mean temperature of 4.85°c is the coldest since 2018 and in a series back to 1954, 52 have been colder, 13 have been warmer and one was the same.
Across the board rainfall percentages were well above average in the county and typically around 350%, a few areas venturing above 400%.
(++) February was record breaking across Cumbria, the most notable breaking of the record coming at Seathwaite - The wettest location in Cumbria during February was Honister with 967.0 mm of rain and which included three days with falls in excess of 100 mm. To add context to that fall, this is the equivalent of 1.31 inches of rain falling every day!
Seathwaite's total of 929.8 mm (36.57 inches) beat its record of 776.0 mm from 1848 – this was quite possibly one of the longest standing records in the UK - Newton Rigg beat its record of 239.1 mm from 1990 and at Appleby the total was 243.5 mm (beating 228.5 mm from 1997).
However, far more pertinent is the fact that the 929.8 mm at Seathwaite represents only the fourth time, in what is a 175 year record, that 900 mm has been surpassed - Even more pertinently is the fact that the other three occasions are from very recent years:
911.0 mm October 2008 - 969.0 mm November 2009 - 966.6 mm December 2015.
Whilst February 2020 has been the third wettest of any month at both Seathwaite and Appleby, at Newton Rigg it was the fourth, but curiously, when expressed as a mean daily fall, February 2020 at Seathwaite was wetter than December 2015 by 0.98 mm.
Figures from the Environment Agency's rainfall sites were, (figure in brackets being the monthly average for 1961-90) 'Data kindly provided by the Hydrometry and Telemetry team of the Environment Agency (Penrith)':
Kirkby Thore ** mm (48.7 mm)
Haresceugh Castle (Kirkoswald) 168.79 mm (56.6 mm)
Brothers Water 742.18 mm (192 mm) and
Orton (Shallowford) 469.8 mm (139.3 mm [average for 1967-2019])
929.8 mm at Seathwaite Farm (Borrowdale - 272 mm [average for 1981-2010]).
** not available due to faults with the gauge
General Synoptic Report for the Month
Low pressure (LP) was over or near to the UK for the first four days of the month in which time rainfall amounts were small. High pressure (HP) in the Atlantic and over Spain then built from the 4th and the next few days were settled and dry, the 5-7th having slight air frosts and some sunshine.
The 8th started fine but a deep area of LP was building out in the Atlantic and so would start a prolonged period a very wet and unsettled weather - 'Storm Ciara' was about to arrive.
Travelling across the Atlantic on a vigorous jet stream, the first rain associated with Ciara arrived at tea-time on the 8th, that rain soon becoming heavy with a very wet and windy night to follow. Rain totalling 89.6 mm (3.527") would make the 8th the second wettest day in my records. That 89.6 mm represented 101.1% of the monthly average for February!
Other rainfall totals included: Seathwaite 118.6 mm, Honister 156.0 mm, Brothers Water 123.47 mm and at Appleby it was 65.5 mm.
It should be stressed that 'Storm Desmond' back in December 2015 was a two day event whilst 'Ciara' was a relatively short event and after a short period of rain in the morning of the 9th, it gave way to showers. However, the damage was done and the village was under water and for a short period, effectively cut-off. 'Ciara' wasn't quite done though. The centre was to the west of Scotland and as it moved north we then experienced the strength of its wind on its southern flank. The afternoon saw gale force winds, just maintaining a 10 minute average of 39 Mph between 1440-50 Hrs with a maximum gust of 57 Mph.
The strength of the wind would remain a key feature for the next few days with a strong westerly following on from 'Ciara'. Gusts over 50 Mph were recorded on the 10-11th and we now had something very slightly wintry. In that W'ly, showers were to the fore and some of those contained snow and hail, through to the 13th. Day-time temperatures took a dip to either side of 5°c, but it was much too windy for frosts, albeit, it was still cool at night.
A vigorous LP system moving up from the south overnight into the 13th would see us wake to a slight cover of very, very wet snow and it would hang about just long and deep enough to be the first 'Day of Laying Snow' this winter.
And now it would be the turn of 'Dennis' - which, unlike the other named storms during the month, people did at least know how to pronounce!
'Storm Dennis 15th - a constant stream of rain on a moist SW'ly airflow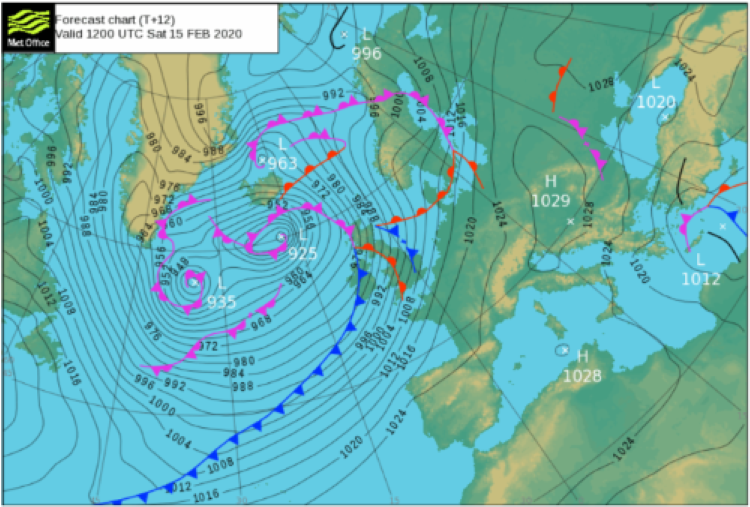 The rain arrived at 1000 hrs on the 15th and would become heavy for the rest of the day, continuing overnight into the 16th. The wind and rain was fairly incessant - 68.7 mm saw the Methodist chapel in Crosby Ravensworth flood for the second week running, yet whilst the highest gust of wind would be a month's high, 60 Mph in a restless night, a gale wasn't recorded.
'Dennis would slowly clear during the 16-17th, leaving a very strong W'ly flow in its wake. However, the next really wet day would not be far away!
Somewhat curiously the 19th would actually be the month's wettest day within the Lake District National Park - Rain arrived mid afternoon and was again very heavy for in excess of 12hrs and this gave totals of 180.4 mm at Honister and 162.8 mm at Seathwaite - and to cap a few very wet days, the 21st saw yet another new area of LP which brought a further 146.0 mm at Honister and 118.2 mm at Seathwaite (Seathwaite notching up 314.8 mm in the three days).
Maulds Meaburn saw totals of 27.5 mm on the 19th and another 28.3 mm on the 21st, the latter being another very windy day with gusts to 55 Mph, repeated on the 22nd.
And now the month entered its slightly wintry phase. Night-time frosts were just avoided, but snow and/or hail fell on most days, the main fall coming overnight into the 24th which saw us wake to a cover of 5 cms (2 Inch). Daytime temperatures also took a dip, generally in the range of 5-6°c and there were at least a few brighter moments with some sun, the best being found on the 26-27th and again on the 29th.
But even now the month couldn't just quietly pass by, no it had to end with another storm. The 29th would see 'Storm Jorge' pass to the north-west of the UK and which would have a sting on its southern flank as it passed by.
Air pressure fell to a month's low of 967.0 Mb and the day had a little of everything, sunny intervals, hail, sleet, rain and wind. The final rainfall total wasn't that high though, 21.0 mm, but the wind did gust to 58 Mph (the ninth day of the month to exceed 50 Mph) - for Cumbria this had been more a case of an average 'winter blow'
February Rainfall Anomalies % February's Temp' Anomaly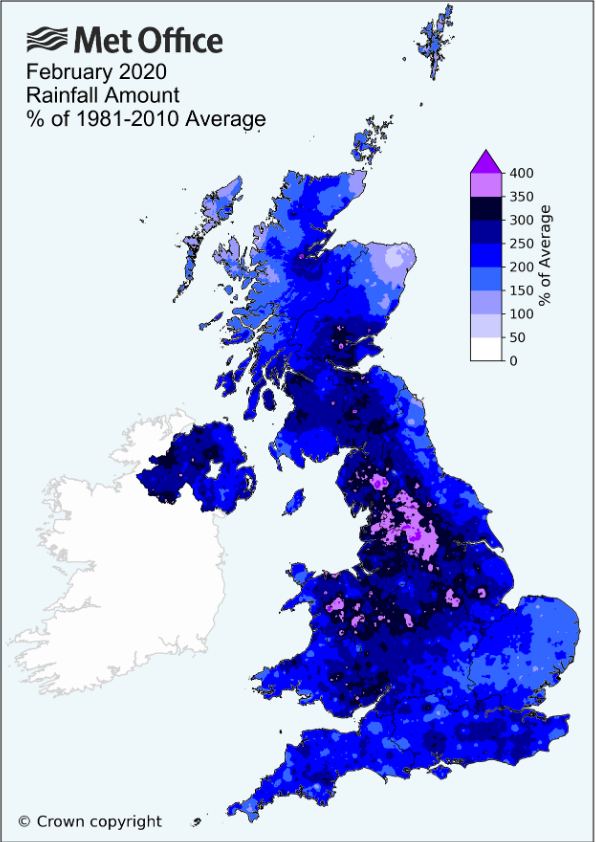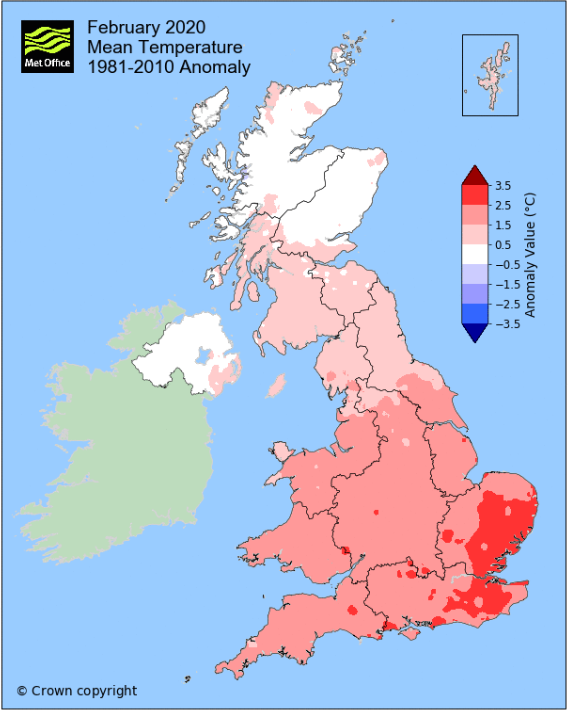 Rainfall totalled 343.4 mm for the month, with rain recorded on 25 days of which 23 were 'Wet days' (1.0mm +).
The Mean Temperature for the month was 4.60°c -- The Mean Max' was 7.25°c -- The Mean Min' 1.94°c.
We had 3 Air Frosts in the month (year 7) -- Grass frosts totalled 16 (year 32).
The 1 foot soil temp ranged from a low of 3.6°c on the 13th to a high of 6.2°c on the 1st -- with a monthly mean of 4.9°c
The 1 meter soil temp ranged from a low of 5.9°c on the 29th to a high of 6.8°c on the 3rd and 5th -- with a monthly mean of 6.3°c
WINTER
Here at Maulds Meaburn the winter of 2019-20 was very wet and very mild and whilst the first two months just passed by, it will solely be remembered for just how awful the final month was.
Forget anything of a wintry nature, this winter was all about ... February. As the monthly summary above, 'awful' is simply not appropriate enough to describe how bad this month was.
December and January were both very mild and whilst the former was drier than average, January was virtually 'on average'. Subsequently with the mild conditions snow and frosts were rare, the number of air frosts finishing 21.4 below average. In spite of the rain, at least February did provide the only two days of winter to record 'days of laying snow'.
Here at Maulds Meaburn rainfall totalled 611.3 mm (Crosby Ravensworth 746.6 mm). This makes it the third wettest (of 13) in my records and is 154.4% of the rainfall for those previous twelve winters.
A mean temperature of 4.77°c is the warmest since 2016-17 and the fourth warmest of the eleven now recorded. It was 1.18°c warmer than the average of those previous ten winters.
At Newton Rigg rainfall totalled 483.4 mm and had a mean temperature of 5.0°c. In comparison to the 1981-2010 averages this represents 172.2% of winter rainfall and is 1.6°c warmer than average.
This makes the winter of 2019-20 the fifth wettest in a series back to 1900-01 (3 yrs of missing data) and in a series back to 1953-54 it is the equal 6th warmest. In the much longer series back to 1914-15, but with 8 missing years, it would still be the equal 6th warmest.
PREVIOUS MONTHS REPORTS
JANUARY 2010 FEBRUARY 2010 MARCH 2010 APRIL 2010 MAY 2010 JUNE 2010 JULY 2010 AUGUST 2010 SEPTEMBER 2010 OCTOBER 2010 NOVEMBER 2010 DECEMBER 2010
JANUARY 2011 FEBRUARY 2011 MARCH 2011 APRIL 2011 MAY 2011 JUNE 2011 JULY 2011 AUGUST 2011 SEPTEMBER 2011 OCTOBER 2011 NOVEMBER 2011 DECEMBER 2011
JANUARY 2012 FEBRUARY 2012 MARCH 2012 APRIL 2012 MAY 2012 JUNE 2012 JULY 2012 AUGUST 2012 SEPTEMBER 2012 OCTOBER 2012 NOVEMBER 2012 DECEMBER 2012 SUMMER 2012 REVIEW OF 2012
JANUARY 2013 FEBRUARY 2013 MARCH 2013 APRIL 2013 MAY 2013 JUNE 2013 JULY 2013 AUGUST 2013 SEPTEMBER 2013 OCTOBER 2013 NOVEMBER 2013 DECEMBER 2013 REVIEW OF 2013
JANUARY 2014 FEBRUARY 2014 MARCH 2014 APRIL 2014 MAY 2014 JUNE 2014 JULY 2014 AUGUST 2014 SEPTEMBER 2014 OCTOBER 2014 NOVEMBER 2014 DECEMBER 2014 WINTER 2014 REVIEW OF 2014
JANUARY 2015 FEBRUARY 2015 MARCH 2015 APRIL 2015 MAY 2015 JUNE 2015 JULY 2015 AUGUST 2015 SEPTEMBER 2015 OCTOBER 2015 NOVEMBER 2015 DECEMBER 2015 REVIEW OF 2015
JANUARY 2016 FEBRUARY 2016 MARCH 2016 APRIL 2016 MAY 2016 JUNE 2016 JULY 2016 AUGUST 2016 SEPTEMBER 2016 OCTOBER 2016 NOVEMBER 2016 DECEMBER 2016 REVIEW OF 2016
JANUARY 2017 FEBRUARY 2017 MARCH 2017 APRIL 2017 MAY 2017 JUNE 2017 JULY 2017 AUGUST 2017 SEPTEMBER 2017 OCTOBER 2017 NOVEMBER 2017 DECEMBER 2017 REVIEW OF 2017
JANUARY 2018 FEBRUARY 2018 MARCH 2018 APRIL 2018 MAY 2018 JUNE 2018 JULY 2018 AUGUST 2018 SEPTEMBER 2018 OCTOBER 2018 NOVEMBER 2018 DECEMBER 2018 REVIEW OF 2018
JANUARY 2019 FEBRUARY 2019 MARCH 2019 APRIL 2019 MAY 2019 JUNE 2019 JULY 2019 AUGUST 2019 SEPTEMBER 2019 OCTOBER 2019 NOVEMBER 2019 DECEMBER 2019 REVIEW OF 2019
OTHER ARTICLES
The Oldest Inhabitant An Inch Of Scotch Mist But it's meant to be Summer (Summer 2017)
&copy Darren Rogers 2010-20
Want to comment on this site? email