Monthly Summary - May 2016
Generally a quiet month both warmer and drier than average and with plenty of sunshine.
May was a decent month with plenty of dry and sunny days, best during the 6-12th and again at the end of the month and the little rain that we did have tended to fall either as showers and/or at night. It was also the driest of any month since September 2014.
Unsettled at the very start of the month before an easterly flow brought the first taste of summer from the 6th. It became unsettled during the 17th to 22nd, before that fine end to the month.
MSLP of 1015.5 Mb was +0.6 Mb above the local average for May with high pressure the more dominant feature during the month.
Overall a mean minimum of 5.56°c and a mean maximum of 16.45°c saw the temperature 0.6°c above the 1981-2010 average and it was the warmest May since 2014. The highest maximum temperature recorded was 24.4°c (8th), the lowest minimum -1.6°c (14th).
Rainfall of 28.2 mm (Crosby Ravensworth School 28.6 mm - CastleHowe Scar 31.1 mm and at Reagill, 27.7 mm) made it the driest May since 2010 (the 3rd driest of the 9 now recorded at this site) and was 38.4% of average for 2008-15. Locally, rainfall percentages were typically in the range of 40-55% of normal.
At the Met' Office site at Newton Rigg, 24.5 mm (43.7%) made it the driest May since 2010 and in a series back to 1900 only 7 have been drier. In a series back to 1914 (missing 3 yrs of incomplete data), a mean temperature of 11.35°c is the warmest since 2008 with 16 having been warmer and 83 colder in that time.
Figures from the Environment Agency's rainfall sites were, (figure in brackets being the monthly average for 1961-90) 'Data kindly provided by the Hydrometry and Telemetry team of the Environment Agency (Penrith)':
Kirkby Thore 19.6 mm (48.0 mm)
Brothers Water 75.38 mm (138 mm)
Nunwick Hall 27.4 mm (53.0 mm) and
130.8 mm at Seathwaite Farm (Borrowdale - 169 mm [average for 1981-2010])
SPRING
Here at Maulds Meaburn, spring 2016 with 196.3 mm of rain (Crosby Ravensworth 206.8 mm) has been the driest since 2010 and is the 3rd wettest of the nine now recorded. That 196.3 mm represented 96.7% of the rainfall for those eight previous springs.
A mean temperature of 7.39°c is the warmest since 2014 and the fourth coldest of the eight springs now recorded. That 7.39°c makes the spring of 2016 some 0.64°c colder than the average of those previous seven.
At Newton Rigg rainfall totalled 148.1 mm and had a mean temperature of 7.52°c. In comparison to the 1981-2010 averages this represented 80.4 % of spring rainfall and it was 0.2°c colder than average.
In a series back to 1900 (1 year of incomplete data), spring has been drier on 34 occasions and wetter on 81 and in a complete series back to 1956, 27 have been warmer and 33 colder.
MAY
1st - 2nd The month opened with various fronts associated to low pressure (LP) near Iceland moving over the UK which brought a little rain/drizzle. Those fronts then cleared north allowing high pressure (HP) to move north out of Biscay and bring a period of settled weather and consequently at just 10.7°c the 1st was the month's coldest day.
3rd - 5th That HP moved northeast out of Biscay through France continuing to Scandinavia resulting in a milder southerly airflow with the subsequent rise in temperature. The only slight negative was a steady breeze, otherwise with the days being dry and enjoying decent amounts of sun, it was quite pleasant.
6th - 12th And then summer arrived! A combination of being sat within a slack pressure gradient with an ESE'ly flow, but of a southerly origin, brought some warm days and whilst initially any sunshine was somewhat hazy, by the 8th that sunshine was particularly strong.
The 6th saw the temperature rise to 19.1°c and after a marginally cooler day 7th in a more easterly flow, the 8th saw a return to the slacker conditions and an ESE'ly flow. The result was that by 1000 hrs it was already the warmest day of the year at 20.2°c and with plenty of direct sunlight the temperature rose to a month's high of 24.4°c (75.9°f).
Every day up to and including the 12th saw at least 20°c, still with plenty of sun and no rain as LP and its associated fronts stayed to our south - it had been a sudden and reasonably long spell of summer conditions.
Mid-day 8th - the month's warmest day brought by a slack ESE'ly flow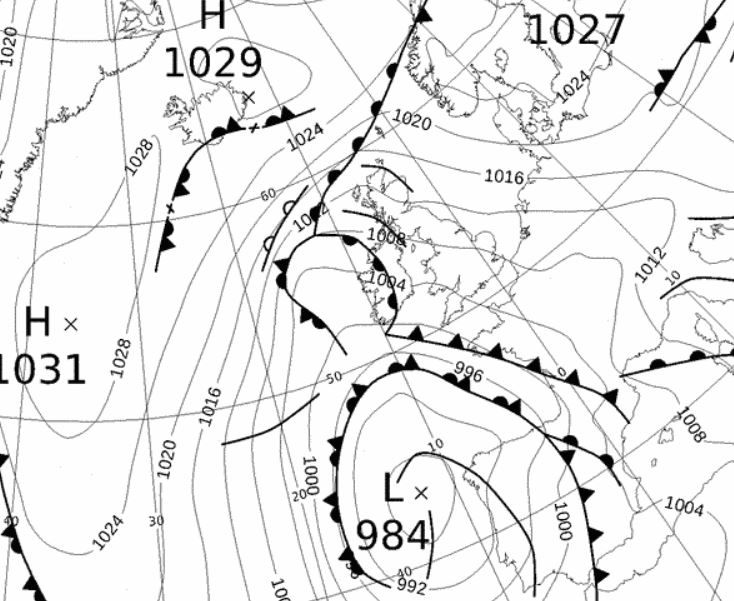 13th - 16th And then it turned cooler. A weak cold front moved north-south during the 13th, giving a little light rain in the afternoon, but introduced a northerly airflow behind it. HP was building just off the west coast of Eire and once the cold front had moved through clearer conditions returned.
Under clear skies the 14th started with the month's coldest temperature of -1.6°c (29.1°f) (ground frost of -3.8°c) and whilst there was a dip in temperatures to 14°c there was still decent amounts of sun.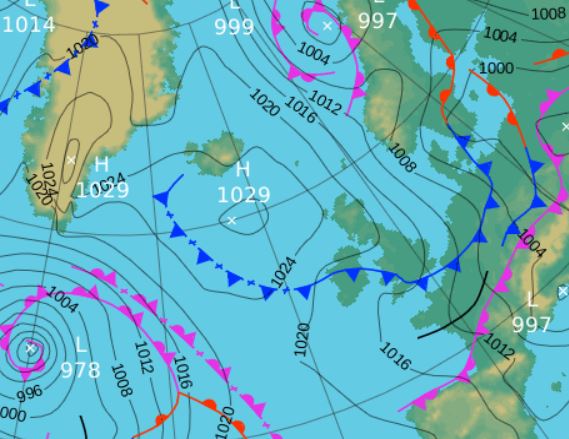 Mid-day 14th - the cold front now to the south and bringing the cooler conditions
17th - 22nd
LP systems arriving from off the Atlantic then became the theme although rainfall didn't amount to much. Temperatures remained around the norm' for May, although milder than normal at night. The 20th was an 'inbetween weather systems' day and saw some sunny intervals but fronts arrived in the evening to give some rain, 7.7 mm, overnight into the 21st, the wettest day of the month.
The period ended bright and breezy but with trough lines circulating around LP that was just west of northern Scotland. The 22nd became notable for a very heavy hail shower just before 4 p.m. that briefly covered the ground and accounted for 5.8 mm to the month's total.
23rd - 31st HP in Biscay, then west of Eire and finally to the north of Scotland then developed and brought a return to something more settled, but with a slight NE'ly breeze around its eastern flank that gave a cooler feel. The nights were also that bit chillier with ground frosts recorded each day 23rd-25th, the lowest being -1.1°c 25th.
The HP slowly drifted north past Faroe and towards the east of Iceland leaving us at its bottom edge and in a brisker flow. A weak front drifted west off the North Sea during the 25th giving a cool and cloudy day that peaked at just 12.6°c with light rain in the evening.
After an overcast day 26th, the month now ended with a run of dry, sunny days and temperatures just marginally below 20° as initially we sat in a slack pressure gradient clear of any fronts, with HP becoming more of a feature from the 30th. At times, mainly in the evenings, the NE'ly wind felt a little cool but overall it was a fine end to the month.
May Rainfall Anomalies % May Temp' Anomaly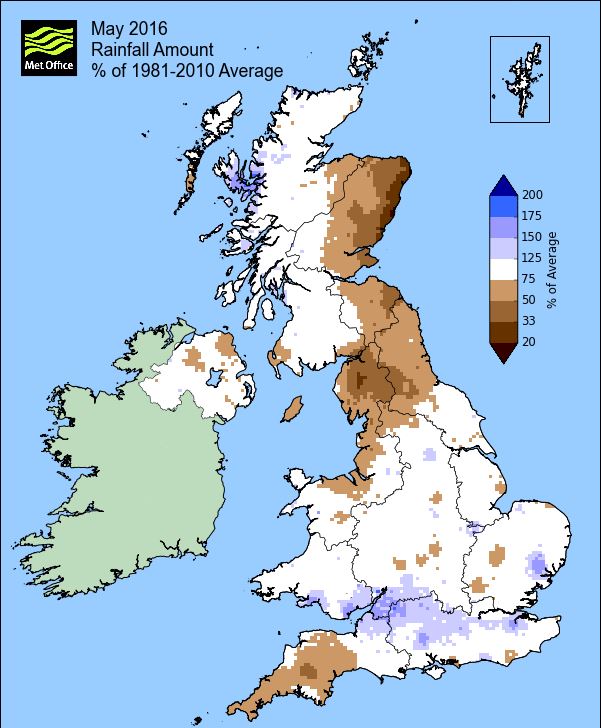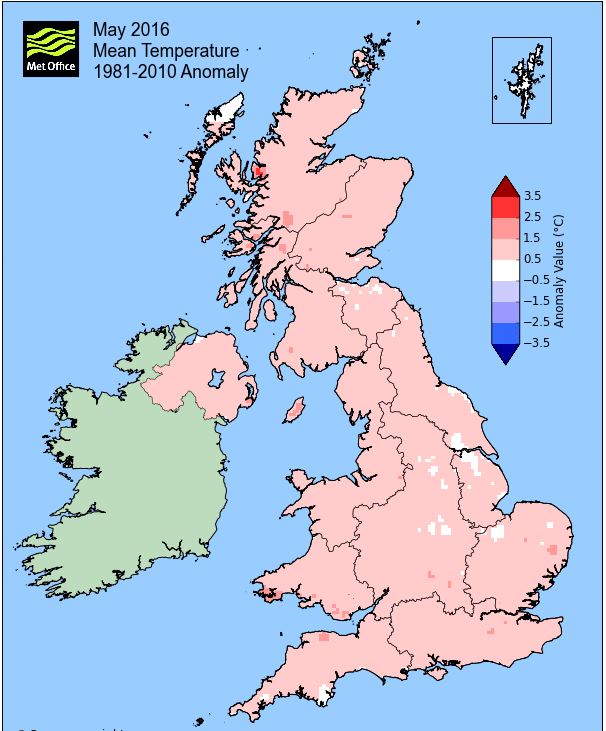 Rainfall totalled 28.2 mm for the month, with rain recorded on 10 days of which 7 were 'Wet days' (1.0mm +).
The Mean Temperature for the month was 11.0°c -- The Mean Max' was 16.45°c -- The Mean Min' 5.56°c.
We had 1 Air Frost in the month (year 39) -- Grass frosts totalled 7 (year 83).
The 1 foot soil temp ranged from a low of 7.5°c on the 1st to a high of 14.4°c on the 31st -- with a monthly mean of 12.1°c
The 1 meter soil temp ranged from a low of 7.7°c on the 1st to a high of 11.3°c on the 31st -- with a monthly mean of 9.9°c
COMPARISONS:-
* May 2016 rainfall was 38.4% of the May average for 2008 - 2015
* May 2016 was 0.98°c warmer than the May average for 2009 - 2015 and 0.6°c warmer than the local long term average 1981-2010

      YEAR TO DATE           
                         * 2016    To Date                   TEMP      6.00°c         --         RAIN    502.7 mm

                                                      
                         * 2015  Jan - May                   TEMP      5.60°c         --         RAIN    542.4 mm


                         * 2014  Jan - May                   TEMP      7.25°c         --         RAIN    691.1 mm


                         * 2013  Jan - May                   TEMP'     4.60°c         --         RAIN    343.7 mm


                         * 2012  Jan - May                   TEMP'     6.29°c         --         RAIN    342.4 mm


                         * 2011  Jan - May                   TEMP'     6.77°c         --         RAIN    533.5 mm


                         * 2010  Jan - May                   TEMP'     4.78°c         --         RAIN    173.4 mm


                         * 2009  Jan - May                   TEMP'     6.45°c         --         RAIN    410.7 mm


                         * 2008  Jan - May                   TEMP'                    --         RAIN    536.5 mm



                         This makes the Jan' to May period of 2016 0.04°c warmer than the average for 2009-15 and with 112.5% of average rainfall for 2008-15


  

PREVIOUS MONTHS REPORTS
JANUARY 2010 FEBRUARY 2010 MARCH 2010 APRIL 2010 MAY 2010 JUNE 2010 JULY 2010 AUGUST 2010 SEPTEMBER 2010 OCTOBER 2010 NOVEMBER 2010 DECEMBER 2010
JANUARY 2011 FEBRUARY 2011 MARCH 2011 APRIL 2011 MAY 2011 JUNE 2011 JULY 2011 AUGUST 2011 SEPTEMBER 2011 OCTOBER 2011 NOVEMBER 2011 DECEMBER 2011
JANUARY 2012 FEBRUARY 2012 MARCH 2012 APRIL 2012 MAY 2012 JUNE 2012 JULY 2012 AUGUST 2012 SEPTEMBER 2012 OCTOBER 2012 NOVEMBER 2012 DECEMBER 2012 SUMMER 2012 REVIEW OF 2012
JANUARY 2013 FEBRUARY 2013 MARCH 2013 APRIL 2013 MAY 2013 JUNE 2013 JULY 2013 AUGUST 2013 SEPTEMBER 2013 OCTOBER 2013 NOVEMBER 2013 DECEMBER 2013 REVIEW OF 2013
JANUARY 2014 FEBRUARY 2014 MARCH 2014 APRIL 2014 MAY 2014 JUNE 2014 JULY 2014 AUGUST 2014 SEPTEMBER 2014 OCTOBER 2014 NOVEMBER 2014 DECEMBER 2014 WINTER 2014 REVIEW OF 2014
JANUARY 2015 FEBRUARY 2015 MARCH 2015 APRIL 2015 MAY 2015 JUNE 2015 JULY 2015 AUGUST 2015 SEPTEMBER 2015 OCTOBER 2015 NOVEMBER 2015 DECEMBER 2015 REVIEW OF 2015
JANUARY 2016 FEBRUARY 2016 MARCH 2016 APRIL 2016
&copy Darren Rogers 2016
Want to comment on this site? email