Click here for the Weatherlink Monthly summary for August
Monthly Summary - August 2021
Often cloudy, dry, settled from the 23rd - a quiet month
Apart from being a quiet month, August was also a fairly underwhelming one as well. Yes it was dry, yes it finished averagely warm, but it was often grey with sunshine a rare commodity and apart from a few days around the 23rd-25th there was never anything that could be described as a warm spell, but apart from a few days at the close of the month it was never chilly - shall we just say that August was ...Uninspiring.
The month started dry under a slack pressure gradient and did enjoy some sunshine, but it then became unsettled with low pressure prevalent, bringing rain on most days and temperatures tending just below average by day and just above by night. From the 23rd high pressure became dominant through to the month's end (and beyond) when Cumbria benefitted from an east-west split and saw quite respectable amounts of sunshine and day-time temperatures. The end of the month remained dry, but cooler and cloudy.
Whilst only a 12 year temperature record exists at this site, August is yet to provide the year's warmest day (June and even May have done so in the same period) and just as surprising is the fact that it only has two entries in the top ten warmest days!
MSLP of 1016.1 Mb was +2.0 MB above the local average for the month and overall a mean minimum of 10.42°c and a mean maximum of 18.91°c saw the temperature 0.23°c above the twelve year average for this site.
It was the coldest since 2018 and of the 13 now recorded, five have been warmer, six have been colder and one had the same mean temperature - the highest maximum temperature recorded during the month being 23.7°c (25th), the lowest minimum 3.8°c (3rd).
Rainfall of 49.2 mm (Maulds Meaburn North 41.7 mm -- Castlehowe Scar 66.5 mm) was 42.9% of average for 2007-20, making it the driest August of the 15 now recorded.
During the month the following there was no thunder or other 'events - the wind speed averaged 4.42 mph, with a maximum gust of 36 mph (13th).
At the Met' Office site at Shap a mean minimum of 9.2°c and a mean maximum of 18.1°c saw the monthly mean temperature 0.15°c above the average and made it the coldest August since 2017.
Rainfall of 73.0 mm represents 64.8% of its average. It was the driest August since 2003 and in a record that commenced in 1989 it was the sixth driest.
At Appleby in Westmorland rainfall of 64.2 represents 74.7% of its average (1856-2020) and made it the driest since 2017 - in a record that commenced in 1856, 54 have been drier and 111 wetter.
All apart from the north-east corner of the county where Spadeadam (124.8% of average) and Bewcastle (118%) had rainfall totals above the average, percentage totals across Cumbria were below average. These lower than average falls showed no particular geographical split and did vary quite widely; Aisgill Moor being the driest location with just 49% of average followed by Walney at 55%.
Figures from the Environment Agency's rainfall sites were, (figure in brackets being the monthly average for 1961-90) 'Data kindly provided by the Hydrometry and Telemetry team of the Environment Agency (Penrith)':
Kirkby Thore 47.6 mm (68.5 mm)
Haresceugh Castle (Kirkoswald) 72.63 mm (99.2 mm)
Brothers Water 151.45 mm (198 mm)
Orton (Shallowford) 74.2 mm (114.6 mm [average for 1967-2019])
207.0 mm at Seathwaite Farm (Borrowdale - 240 mm [average for 1981-2010]) - making it the driest since 2010 and since the record commenced in 1845, 49 have been drier and 127 have been wetter.
General Synoptic Report for the Month
A weak cold front moved south on the 1st with a slack pressure gradient following on for the next three days. This saw a dry start to the month with some sunshine and temperatures gradually increasing from 17.8°c on the 1st to just over 21°c on both the 4-5th. From the evening of the 5th the month would become unsettled with spells of rain through to then 22nd when high pressure (HP) would finally develop and come to the fore.
Whilst temperatures remained broadly close to the seasonal average both by day and night throughout the period and rainfall was never too excessive, the prominence of cloudy and grey days was notable - summer felt as though it was on hold or even possibly finished!
Low pressure (LP) became semi stationary over Eire from the 6th and didn't clear away until the 10th during which its associated fronts brought heavy showers on the 6th (14.6 mm) with more organised rain overnight into the 7th which saw a further 9.1 mm with a mix of drizzle, rain and showers.
After these two higher totals, daily falls were then relatively small, but with rain falling virtually every day; day-time maxima becoming stuck in the range of 17-19°c under those cloudy and often grey skies.
By far the best period of the month fell during the 23rd - 28th which became pleasantly warm and with some sunny days as high pressure would build and become dominant, initially over the UK, then west of Scotland, moving to Shetland and then the west coast of Norway.
On the whole Cumbria benefited with an east-west split across the UK. Eastern parts tending to get stuck under grey skies with the airflow coming off the North Sea, whilst Cumbria and western parts enjoyed the sunshine and corresponding temperatures. It was never too warm though, 23.7°c (74.7°f) on the 25th being the month's warmest day.
There were a couple of chilly nights 27-28th and then the month closed with three cloudy but dry days.
August's Rainfall Anomalies % August's Temp' Anomaly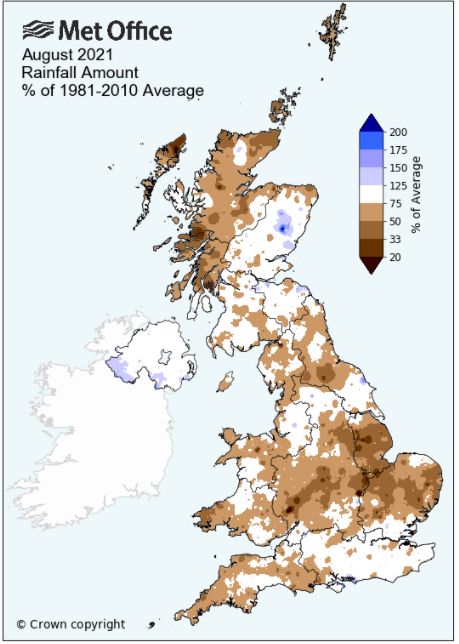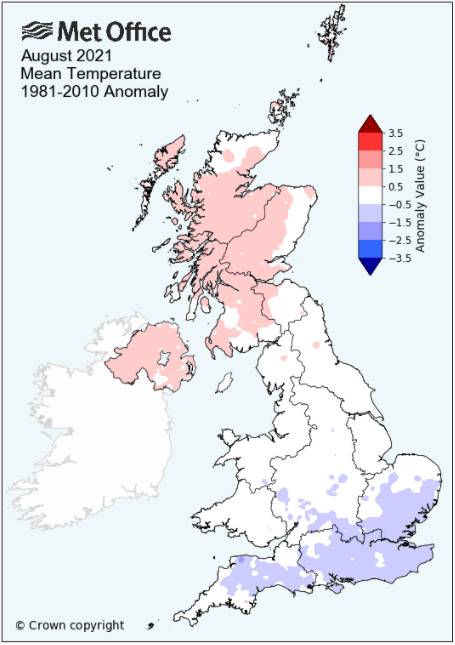 Rainfall totalled 49.2 mm for the month, with rain recorded on 16 days of which 11 were 'Wet days' (1.0mm +).
The Mean Temperature for the month was 14.66°c -- The Mean Max' was 18.91°c -- The Mean Min' 10.42°c.
We had 0 Air Frosts in the month (year 61) -- Grass Frosts totalled 0 (year 88).
The 1 foot soil temp ranged from a low of 16.0°c on the 14th and 31st to a high of 17.6°c on the 26th -- with a monthly mean of 16.6°c
The 1 meter soil temp ranged from a low of 14.7°c on the 18th and 21st to a high of 15.3°c on the 1st and 25th -- with a monthly mean of 15.0°c
This makes the Jan' to August period of 2021 0.42°c colder than the average for 2009-20 and with 101.9% of average rainfall for 2007-20
SUMMER
Dry - modestly warm
Following the very wet summer of 2020 this year has provided a very dry one - last year was the wettest in my records (and at Seathwaite as well, since 1845) and now 2021 is my driest.
The 17th - 23rd July provided the only hot spell of the season and which with seven consecutive days above 25°c became quite oppressive, otherwise it has just been steady away, never too warm nor chilly (apart from a ground frost on the 22nd June).
Rainfall has been patchy, although parts of eastern Cumbria were wet at times during July, yet Grasmere recorded its second driest June in a record that commenced in 1890.
Summer 2021 at Maulds Meaburn has seen 138.5 mm of rain and is now the driest of the fifteen recorded and includes the driest June and August in that time. That total represents 45.4% of the rainfall for those previous fourteen summers.
A mean temperature of 15.03°c is the warmest since 2018 and of the thirteen summers now recorded one has been warmer, ten colder and with one being the same. Summer 2021 has finished 0.77°c warmer than the average of those previous twelve.
At Appleby in Westmorland the summer saw rainfall of 171.9 mm, this represents 78.4% of its average. This makes 2021 the driest summer since 2006 and since the record began in 1856, 121 have been wetter and 44 drier.
However, Seathwaite Farm always seems to have a story to tell - after 2020 was its wettest summer on record 1312.0 mm (51.65 In.) with all three months recording in excess of 400 mm, now 2021 has recorded its sixth driest with just 365.0 mm (52.8%), this being the driest summer since 1983.
PREVIOUS MONTHS REPORTS
JANUARY 2010 FEBRUARY 2010 MARCH 2010 APRIL 2010 MAY 2010 JUNE 2010 JULY 2010 AUGUST 2010 SEPTEMBER 2010 OCTOBER 2010 NOVEMBER 2010 DECEMBER 2010
JANUARY 2011 FEBRUARY 2011 MARCH 2011 APRIL 2011 MAY 2011 JUNE 2011 JULY 2011 AUGUST 2011 SEPTEMBER 2011 OCTOBER 2011 NOVEMBER 2011 DECEMBER 2011
JANUARY 2012 FEBRUARY 2012 MARCH 2012 APRIL 2012 MAY 2012 JUNE 2012 JULY 2012 AUGUST 2012 SEPTEMBER 2012 OCTOBER 2012 NOVEMBER 2012 DECEMBER 2012 SUMMER 2012 REVIEW OF 2012
JANUARY 2013 FEBRUARY 2013 MARCH 2013 APRIL 2013 MAY 2013 JUNE 2013 JULY 2013 AUGUST 2013 SEPTEMBER 2013 OCTOBER 2013 NOVEMBER 2013 DECEMBER 2013 REVIEW OF 2013
JANUARY 2014 FEBRUARY 2014 MARCH 2014 APRIL 2014 MAY 2014 JUNE 2014 JULY 2014 AUGUST 2014 SEPTEMBER 2014 OCTOBER 2014 NOVEMBER 2014 DECEMBER 2014 WINTER 2014 REVIEW OF 2014
JANUARY 2015 FEBRUARY 2015 MARCH 2015 APRIL 2015 MAY 2015 JUNE 2015 JULY 2015 AUGUST 2015 SEPTEMBER 2015 OCTOBER 2015 NOVEMBER 2015 DECEMBER 2015 REVIEW OF 2015
JANUARY 2016 FEBRUARY 2016 MARCH 2016 APRIL 2016 MAY 2016 JUNE 2016 JULY 2016 AUGUST 2016 SEPTEMBER 2016 OCTOBER 2016 NOVEMBER 2016 DECEMBER 2016 REVIEW OF 2016
JANUARY 2017 FEBRUARY 2017 MARCH 2017 APRIL 2017 MAY 2017 JUNE 2017 JULY 2017 AUGUST 2017 SEPTEMBER 2017 OCTOBER 2017 NOVEMBER 2017 DECEMBER 2017 REVIEW OF 2017
JANUARY 2018 FEBRUARY 2018 MARCH 2018 APRIL 2018 MAY 2018 JUNE 2018 JULY 2018 AUGUST 2018 SEPTEMBER 2018 OCTOBER 2018 NOVEMBER 2018 DECEMBER 2018 REVIEW OF 2018
JANUARY 2019 FEBRUARY 2019 MARCH 2019 APRIL 2019 MAY 2019 JUNE 2019 JULY 2019 AUGUST 2019 SEPTEMBER 2019 OCTOBER 2019 NOVEMBER 2019 DECEMBER 2019 REVIEW OF 2019
JANUARY 2020 FEBRUARY 2020 MARCH 2020 APRIL 2020 MAY 2020 JUNE 2020 JULY 2020 AUGUST 2020 SEPTEMBER 2020 OCTOBER 2020 NOVEMBER 2020 DECEMBER 2020 REVIEW OF 2020
JANUARY 2021 FEBRUARY 2021 MARCH 2021 APRIL 2021 MAY 2021 JUNE 2021 JULY 2021
OTHER ARTICLES
The Oldest Inhabitant An Inch Of Scotch Mist But it's meant to be Summer (Summer 2017)
&copy Darren Rogers 2010-21
Want to comment on this site? email